4 Things That Make Interior Renovations Last Longer Than They Should
Every renovation is optimistic because it often starts out with a vision of amazing new living places and updated areas. It's always exciting when you start a new home renovation project, and although it may look as a simple process, a seemingly easy renovation can turn into a nightmare if you're not careful about how you plan your project and who you hire. Otherwise, you may be the next victim of low quality work, over-inflated costs and poorly done renovations. Here are some of the mistakes that make interior renovations last longer than they should:
1. Not Having the Right Drawings

Before submitting your application, you need to ensure that you have the right drawings. For example, if you want to build a second floor for your home, you must have structural drawings for it. Nevertheless, you'll also have to prepare the electrical, plumbing and HVAC drawings. This is where homeowners usually start making mistakes which makes the process last longer. For example, homeowners will hire an architectural firm to prepare the structural drawings for their project, but won't realize that the architect doesn't provide HVAC, plumbing, electrical, or some other necessary engineering drawings. Now they have to go to a completely different professional to prepare the remaining drawings. In order to get your application prepared as quickly as possible, find a consultant that prepares all of these documents in house. This way, you'll avoid the waiting times that would take a lot of time and money.

Once you submit your application, the completeness of the drawings will determine how long it takes to approve. On average, it takes about 3-4 weeks after submission to get the building permit, but the process can take much longer if you don't have the right professionals by your side.
2. Hiring Contractors Instead of Going to a Design Expert

Regardless if your project is an addition or a simpler renovation, you should talk to an expert design consultant before speaking to contractors. A design consultant could potentially save you a ton of money on all fronts, including construction. Contractors often provide quotes based on square footage, which means they don't know the actual scope of the project as there may be more than just a simple renovation involved. Many of them will also use cheap quality materials in the process.  So how do you protect yourself in this process?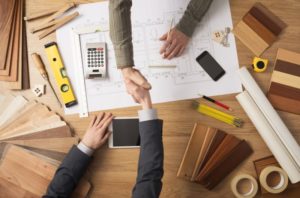 1. Prepare and ask questions. Do you provide all drawings in house? What kind of materials will you use? Will I experience additional charges down the road? These are just some of the many questions you should ask. Another option would be to hire a design consultant who already knows the questions to ask by heart, so you know they will work in your best interest.

2. Hire a consultant as your advocate. It is always best to invest a little more in doing your project right from the beginning than have to spend a lot more money down the road on disputes, additional permits, adjustment committees and so on. The right design consultant will know how to protect you from contractors that overcharge or use cheap materials.

3. Incomplete documentation or drawings can make the entire process last longer than it should, and the fastest way to get a permit is to submit complete drawings that follow municipal regulations. If you're building an addition, you must make sure that your project follows the zoning by-laws of your municipality. Each city within the GTA has its own set of specific rules pertaining to the height, width, and other aspects of building projects. Failure to follow these guidelines will result in longer processing times, which is why you should always look for a more experienced professional.
3. Asking for the Impossible

The length and cost of your interior renovation will depend on the scope of the project. Are you simply adding a room or moving the entire kitchen to a different area? If your answer is the latter, you'll need to do plumbing, structural, HVAC, electrical drawings and others. However, some ideas sound good in theory, but would take a lot more time and money to complete in reality. Being flexible with your vision could go a long way. Nevertheless, nothing is impossible when you have the right design expert by your side.
4. Not Planning Ahead

Determining your budget and planning ahead will likely spare you from uncomfortable surprises. A design consultant will help you figure out just how much time and money you need for your particular project. While we're talking about money, keep in mind that you should avoid getting cheap materials just to save on renovation costs. Down the road, this may come back to haunt you because cheaper materials provide cheap results.

Acadia Drafting prepares all your drawings in house, which shortens your waiting times significantly. We make sure that the drawings are done up to code and zoning bylaws the first time, which means there is nothing standing in the way of you getting your permit as soon as possible.